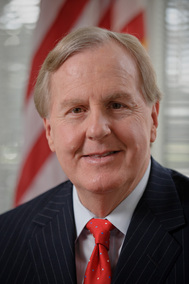 Robert Pittenger's life has been dedicated to the idea that America is at its best when it is built from the ground up. Establishing a solid foundation of honesty, fairness and hard work, Robert has created meaningful growth in his family, his faith, his business, his community, and in government.

Born and raised in Texas, Robert was the youngest of four children. His dad was a small-business owner. His mom raised the children, providing a solid foundation for honesty, hard work and dedication.

Upon graduating from the University of Texas, Robert began his career in service to his faith with Campus Crusade for Christ where he worked for the next 10 years. Robert was the assistant to the President, helping to bring the organization's work to over 170 countries. During this time he met his wife, Suzanne, and they began their family of four children, all active adults now.

In 1985, Robert and his family moved to Charlotte where he built a real estate investment company from scratch. The first years were tough, but Robert's commitment to always treating people fairly and having a bedrock of ethical business practices quickly earned him a reputation for honesty and square dealing that allowed the business to prosper.

To this day, Robert has the same group of business partners and maintains the admiration and respect of everyone he works with. He has developed hundreds of successful projects that help bring fulfillment to families in Charlotte, across America and now, around the world.

As a three-term Republican state Senator, Robert focused on strengthening the state's financial foundations and proposed over $1.5 billion in spending cuts to balance the state's budget. He led the fight for lower taxes for families and to eliminate waste, fraud, and abuse in Medicaid. For his efforts, he received awards from conservative organizations such as Americans for Prosperity, Americans for Tax Reform and the Tax Foundation. He also earned an A rating from the NRA for his strong support of North Carolina's sportsmen. Robert was a lead sponsor of Right To Life legislation and the marriage amendment.

Robert's commitment to building strong foundations applies to his community, too. He has striven to ensure that all, regardless of background, have a chance to succeed. Because of the value he places on his own family, many of his endeavors focus on children and families. He has served as President of the Foundation for North Carolina's Future and the Outreach Carolina "Power to Change" campaign. He has also served on the board of groups as diverse as the Presbyterian Hospital Foundation, the Crossnore School, the Jesse Helms Educational Foundation and the CPCC Foundation.

Robert Pittenger's life has been one of strengthening foundations to allow for honest growth – in his own family, in the families of his community and North Carolina, in his business, in government and in his faith. As America searches for leaders to rebuild our nation, we need Robert Pittenger's experience bettering his state and community through service and private business, in government by cutting taxes and growing jobs as a fiscal reformer, and in his private life as a family man and man of faith.